"Woodstock Jams" on WDST (100.1FM)
; September 20, 2017
       David Kraai swings by WDST's "Woodstock Jams" as a special guest co-host to promote his new album
North Mountain Rambling
, which was recorded in the basement of the legendary Big Pink! David joins Brett to spin tunes from the new album and other cuts from his collection...
http://www.radiowoodstock.com/2017/09/20/woodstock-jams-92017/
---
I am Ulster County: David Kraai
; Ulster Magazine, September-October 2011 Issue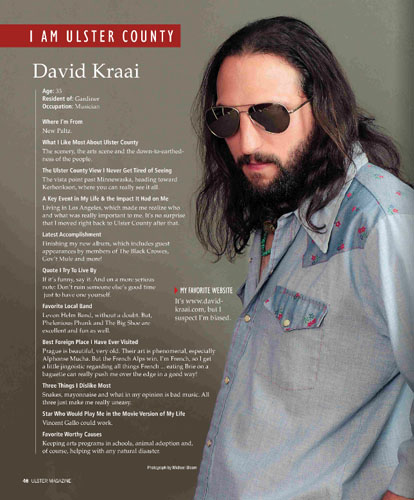 Resident of:
Gardiner
Occupation:
Musician

Where I'm From
New Paltz.

What I Like Most About Ulster County
The scenery, the arts scene and the down-to-earthed-ness of the people.

The Ulster County View I Never Get Tired of Seeing
The vista point past Minnewaska, heading toward Kerhonkson, where you can really see it all.

A Key Event in My Life & the Impact It Had on Me
Living in Los Angeles, which made me realize who and what was really important to me. It's no surprise that I moved right back to Ulster County after that.

Latest Accomplishment
Finishing my new album, which includes guest appearances by members of The Black Crowes, Gov't Mule and more!

Quote I Try To Live By
If it's funny, say it. And on a more serious note: Don't ruin someone else's good time just to have one yourself.

Favorite Local Band
Levon Helm Band, without a doubt. But, Phelonious Phunk and The Big Shoe are excellent and fun as well.

Best Foreign Place I Have Ever Visited
Prague is beautiful, very old. Their art is phenomenal, especially Alphonse Mucha. But the French Alps win. I'm French, so I get a little jingoistic regarding all things French... eating Brie on a baguette can really push me over the edge in a good way!

Three Things I Dislike Most
Snakes, mayonnaise and what in my opinion is bad music. All three just make me really uneasy.

Star Who Would Play Me in the Movie Version of My Life
Vincent Gallo could work.

Favorite Worthy Causes
Keeping arts programs in schools, animal adoption and, of course, helping with any natural disaster.

My Favorite Website
It's www.davidkraai.com, but I suspect I'm biased.
---
Five Firsts: David Kraai
; Nippertown, 01/12/11
Name:
David Kraai
Band Affiliation:
David Kraai & the Saddle Tramps
Instrument:
Singer, songwriter, guitar, harmonica, mandolin & stumbling through a few more...

1. The first album I ever bought was...
Something by the Monkees on vinyl. I was quite young and didn't even know how much a record cost, but I wanted one by the Monkees (I had seen them on television and loved their show). No one was home, so I took all of my money and walked a ways to the local department store. They only had one by them, and I had just enough loot, so I bought it, and the rest may or may not be history...

2. The first concert that I ever saw was...
10,000 Maniacs, and the tickets were a gift. I just wanted to go to a concert, but these family friends didn't know what music I liked, and they chose the act. The whole time I was wishing I was at a Guns N' Roses concert, but, hey, it was 1989 or something … and "Appetite" is a great album!

3. The first musical instrument I ever owned or played was...
A recorder. And I still have it...

4. The first song that I ever performed in public was...
I think it was "Dark End of the Street" by Dan Penn and Chips Moman, but it is hard to remember for sure...

5. The first band I was ever in was...
The Old States. A short-lived, great little country outfit from mountains of New York State… and what a nice hallucination it was!
---
Notes From The Edge: Interview with David Kraai
; UpstateLIVE, September-October 2008 Issue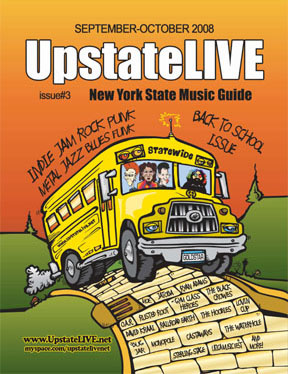 David Kraai is one of the great talents that has been born into the Upstate music landscape. A superb musician and lyricist, he grew up near the legendary town of Woodstock. The experience sent an educated student of the craft out into the field to do his work. He has gained some exposure on the national scene and is well respected by musicians, peers and a choice few national icons. Neil Young recently praised David for having one of the top 10 war anthems of our time with his great song, "Things of America." Things have been going well for Mr. Kraai and his band The Saddle Tramps. David Kraai & The Saddle Tramps have been performing to larger crowds and are gaining respect on the touring circuit in New York and beyond. I recently caught up with David to talk to him about his rising star in the U.S. of A. If you are a fan of the high and lonesome sounds of Gram Parsons, you will definitely dig this cat!

Who are your biggest influences musically?
Gram Parsons, Bob Dylan and Neil Young are surely the biggest. But, old blues, folk and country music are always creeping in there showing their continual ideological roots. Not to mention some good emotional R&B stuff like Sam Cooke or Delaney & Bonnie.

What does Woodstock mean to you? How did this town aid in your musical education, so to speak?
Woodstock is still the name which symbolizes and epitomizes the hippie movement. That idea of community and peace and tranquility is what the hippies wanted and what actually exists in the town of Woodstock. I grew up just down the hill from Woodstock and my parents were hippies who lived in San Francisco during the heyday of Haight Ashbury. It's hard to get away from those ideals when you grew up with them as truths. So, it's no surprise that I would label myself a hippie at heart, or a beatnik or, maybe, just a plain old alternative person living outside of the mainstream scene. Anyway, growing up in the shadow of that music, and those musicians, is huge. I grew up always listening to good music; some would say the best music! Definitely music that changed the face of music and the world in general. Hearing that every day is an education, and having Dylan and The Band and so on as teachers is one of the best educations ears can find. I wouldn't say Woodstock aided in my musical education, it created it. And like all good educators, it sent me out with a solid foundation seeking, wanting and capable to find out more.

The Old States were an amazing band! What led to the demise of the band?
Just artists pulling in different directions and having different priorities. I still see those cats sometimes and it's like no time has passed. True friends are like that. We just had to move closer to what we each needed and wanted and that wasn't mutual – which is pretty realistic, when you think about it.

When your solo album, 'A Denim Fall', started to get national exposure, how did this affect you? Did you think that everything that was happening to you was a bit surreal?
Not surreal, just the start of something. I was happy that people were enjoying it and feeling it and more than happy to be out hitting the road with it, meeting folks and playing shows with artists I respected. I had already had a lot of the ideas and songs on our current album in mind and was excited to be making a name for myself, knowing that soon people would get to hear the next step in my overall vision.

How humbling is it that Neil Young credited you as writing one of the top 10 anti-war anthems of the times?
That was a huge compliment and something that fully proves what a generous, big heart Neil has. I'm just hoping we can get these wars to stop sooner than later. Until then, I think people like me are just living in one big anti-war anthem known as that internal pulse called day to day life.

How did you come to gather the group now known as The Saddle Tramps?
Well, in a simple twist of fate, these four great guys just fell into my musical lap. Our drummer, Chris Ragucci, and I grew up together and have always wanted to find the"right" band to play together in. This was it and the time was right. He brought our bassist, Jon Stern, into the fold - as they had played together in a couple different bands prior to this. They have a great rhythm connection and that, mixed with my rhythm playing, makes up a huge part of the Saddle Tramp sound. Our pedal steel player, Marty Hodulick and I had connected years ago, and via random chance found each other again. It turned out he was looking for a way to drag that old pedal steel out of the barn and I was looking for a way to look stage right and see that beautiful instrument humming. Then, after we had been gigging together for about four months, a gentleman, whose previous band had shared some bills with The Old States, came up to me and said he would like to join our gang. We tried him out and Sean Powell joined on as our lead guitarist. I guess that's just a long way of saying, "A minor case of destiny." Maybe.

How did you become part of some of these great tribute tours such as the national Daniel Pearl tributes, as well as the several Gram Parsons showcases you have been involved in?
I was approached by FODfest, which stands for "Friends of Danny" and is an annual concert tour honoring the life and ideals of Daniel Pearl. They heard my music and liked it and the fact that I was not only a guitar-slinging, singer/songwriter, but that I also played harmonica, mandolin, banjo and dulcimer, and could back up the other performers to help flesh out their songs. That's what Danny liked to do. Stretch his playing prowess, listen to other performers, and find a way to enhance their songs tastefully. Now, the Gram tributes: I have always loved and been heavily influenced by Gram Parsons. I wanted to be a part of these concerts. I wanted to be a part of helping his legacy continue and grow. So, I got in contact with the various booking agents for all of these different tribute festivals and they obliged. They understood what I was doing, how it was Gram influenced and how I was continuing his legacy by delineating the borders between genres in music. Specifically between country and rock, but other styles as well.

Do you have any current touring or recording plans in place?
I am always playing shows solo and with The Saddle Tramps. The dates are on the website. We'll be taking off on a Southern tour at the end of October and I will also be down South playing solo in late September. Early October hopes to see me touring around nationally all by my lonesome. As far as recording, we will most likely start tracking our new album in the early fall. We've got the material and want to start laying it down in a relaxed fashion, so the album will be ready just when everybody has fully digested this one – which only came out this past October. Now, that I think about it, it sounds like the fall is going to be really busy! Definitely can't complain about that though... I'm living one dream and the others can only fall into place with time, appreciation and no expectations.
---
Our Favorite Musicians Review Their Favorite Albums of 2007
; Alt Country Netherlands, December 2007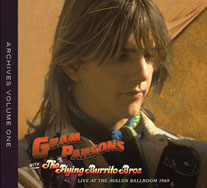 Gram Parsons Archives Volume One:
The Flying Burrito Brothers Live at the Avalon Ballroom 1969
by David Kraai
       I was very happy to hear that soundboard recordings of the Flying Burrito Brothers' sets opening for the Grateful Dead on April 4th & 6th of the year 1969 were finally going to see the light of day. I had had a bootleg copy of the April 6th show for years and always loved the song choices in this loose, yet heart-felt performance by the original Burritos line-up. The second disc of this set (which is of the aforementioned show) never sounded better and it is oh so very nice to hear Gram's heartbroken and heartbreaking voice coming through my speakers loud and clear. But, despite how much I've loved this show for so long, it is the April 4th show which shines through like a beacon of country rock salvation. This particular show has never hit the masses in any format, bootleg or otherwise, and on the versions of "She Once Lived Here" and "Long Black Limousine" Gram doles out such gut wrenching vocals that only the hardest heart could not be moved. Chock full of plenty of classic Burritos and Gram cover song choices (as well as some brandy new home demos), a beautiful hardcover book styled packaging, fun, informative & insightful liner notes and previously unpublished photos, this 2CD set is sure to please any fan of Gram, the Burritos or quality music in general. But, it is the fact that this set comes to us now, in this day and age of pop music and instant gratification, that brings hope for Gram's music and voice reaching new fans and that ever elusive return to substance in our daily culture.
---
David Kraai & The Saddle Tramps: High & Lonesome
; New York Waste, Winter 2007 Issue
       They say that sometimes that you only have to look next door to find talent.
       My next door neighbor is this guy named David Kraai. A nice, friendly chap and very much known around here for making people dance all night to the sounds of his guitar with his band The Saddle Tramps. I am not specialized in country rock or folk music, which is quite popular here in Upstate New York, but I have to tell you that it usually hasn't been good news to me... until I first heard Mr. Kraai at a local bar.
       Now there was someone who belonged onstage. Influenced by his elders, for sure, but neither copy-cat nor cover band. Never trying to be anything else than himself. In my book... that's punk.
       So, I became a regular at The Saddle Tramps' gigs... and will certainly remember the good memories. Like the one time that power went out in the entire town and David - forced to stop playing his show - ended up doing an acoustic set outside to a dancing crowd who stayed all night.
       As a good neighbor, I was granted an advance copy of David's new album,
high & lonesome
; a CD filled with very nicely crafted songs. If I often joked about how long it took David to produce it, I have to admit that it shows.
high & lonesome
is one fine record.
       Of course I attended the CD release party, which was another great evening as the band played for a thrilled audience - giving everything they had and more.
       Ever since the release of the album, The Saddle Tramps have been played on the radio and David left on a tour. Things are going pretty good for this neighbor of mine and his talented musicians.        
high & lonesome
... that's a title I can relate to. If, like me, you are high on music, then you are not so lonesome. For music is our shelter in the good and bad times. They say that sometimes talent can be found right next door; my neighbor proves them right. Maybe Mr. Kraai will think the same after he reads these few lines. See you at the next gig!
An interview with David Kraai:

So David, first things first, what are your musical influences?
Gram Parsons, Bob Dylan, Neil Young, The Band, Emmylou Harris, Willie Nelson, The Beatles, mostly sixties and seventies stuff; old folk, Delta blues and gospel too. But, I like it best when artists stretch the boundaries of genres and make a potpourri of sounds come out of them. A great example of that is Delaney & Bonnie and Friends. What a great band, that not so many people know about.

When did you start playing?
After a failed attempt in high school, I started playing very casually when I was 18. Then seriously when I was 23. They say, "Hindsight is 20/20" and via my own presonal hindsight, I wish the serious playing had started earlier. But, you can't change the past; at least I haven't seemed to be able to figure out how to. Yet.

Why did you start playing?
To get closer to an art form that had been giving me quite a large and visceral release for as long as I could remember. It seemed to me that the only way to get even closer (and an even more visceral response) from music was to learn how to make it. Then, there could be a full-circle understanding and submersion within it.

How would you describe your sound?
Labels can be limiting, but also helpful to get someone interested that might not know what you do. A basic answer would be: country rock. But, we've got elements of funk, blues, jazz and gospel in there too (at least). It all comes back to that potpourri of sounds. I guess we are American music. Meaning that America is a melting pot and a place where that is accepted and expected. And we make make American music which surely adheres to those rules and regulations whole-heartedly.

What inspires you into writing music?
First, real life. Paul McCartney once said something like, "A good song is 90% imagination." I completely agree with that, even though that percentage may not always be accurate in my writing. But, I like to take 10%, say, of a real situation, event or emotion and build a song around that. It is naive to think that the way something actually happened is the most interesting, universal and best way to relate and pass it along. Things and stories need embellishments and de-bellishments. So, I am inspired by my life and then, hopefully, create a universally understandable song that makes people think about things and emotions that have happened to them or could happen to them.

What is the "idea" behind your new album?
To cross genres. Getting people to really listen to music and words again while having an emotional response and some fun along the way. By the way, did I mention an examination of the human condition?

Can you tell me more about the CD?
It took a year and a half to make and that equals a lot of work! But, a lot of fun too. We had some friends help us out with some vocals and fiddle and that was great; it is always nice to get together and make music with your pals - especially when they are people you also respect musically. We recorded the album only about a half hour from our homes (not down in New York City), so it was nice to be up in the country making a rootsy affair like this and still get to sleep in our own beds and go to our own homes at night and still get to hang out with each other plenty when we weren't at the studio. And, because of that living well while working well vibe, the album (although it was work) never really seemed like too much work. Maybe some stress! But, families do that to each other, right? And that bunkhouse, homey vibe is what we needed and wanted. Plus, we still got to play a bunch of shows and get the new songs out to people; get new ideas and have them gel along the way.

What has been the response so far?
Great! A lot of radio stations have been very good to us; some of them AAA, so that never hurts. The first round of reviews are just coming in now and they are all extremely good as well. Everyone is liking and appreciating and understanding what we've done and are trying to continue doing... and that is a great feeling! As far as shows and tours: we've already gotten a lot of new interest and offers from advance copies which were sent out. Two days after the CD Release Show, I left on an East Coast tour of singer-songwriters as a solo artist... that was because of the record's reception. It is a big compliment to be noticed and rewarded on the merit of your ability to craft a song. That was a big honor. But, all is good; we've just got to keep the gigantic ball of snow rolling until it hits the ski lodge and blows up. In a good way.

What's next for the band?
Lots of shows and promotion of the album. Just doing whatever it takes to get these songs into people's hands and hearts... while having fun, of course. We've also got a bunch of new songs, so, maybe there's a place and space to get those out and in there too. Not another new album just yet, though.

What do you love about music?
Its ability to bring hearts and minds together and always do new things to them. It really has no boundaries.
---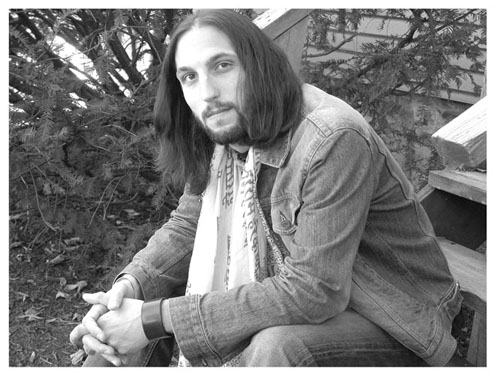 Personally Speaking: David Kraai
; The New Paltz Times, 09/15/05
       When David Kraai returned to his New Paltz hometown four years ago after pursuing work as an actor in both New York City and Los Angeles, he was faced with a serious question. "When I came back here, I eventually started doing theater again, and I saw that our area is an artsy area. People are coming to the theater for the right reasons. It's not like, let's go see
The Producers
because that's the hot ticket on Broadway. Audiences are just great around here," Kraai notes. "So I had to ask myself; do I want to be famous or do I want to do it for all the right reasons?"
       He chose the latter, which ultimately included a foray into music as well, and so far, he says, "I'm batting 99 percent." Within the past year he's released a CD, performed in four plays (with two lined up for the fall), finished shooting a movie and is getting ready to embark on a journey to play at the tenth anniversary Gram Parsons festival in Joshua Tree at the end of September. Parsons, who died in 1973, "pioneered country rock and influenced everyone from The Rolling Stones to Bright Eyes," Kraai emphasizes. Kraai is also a regular at clubs both locally and in New York City, and will even be featured in a video game as a character "that's me, with a different name."
       Though he was always interested in artistic pursuits, and decided he wanted to be an actor as a teenager, Kraai opted not to participate in New Paltz High School theater productions, in part because, "I didn't really fit in with that program, and I didn't think that what I thought was happening there is why I was going into it. I thought I'd wait 'til I got to college, because it would be handled a lot differently," he says. For Kraai, high school theater productions serve an important purpose in terms of learning how to work in groups and spending time with peers, but, he adds, "I think it's really detrimental to serious acting. You pick up really bad tricks. When you're growing up, all you hear is 'don't be loud, don't talk back.' You have to unlearn 20 years of being shouted down and told to keep in line. It's the same in high school theater. The focus is getting the lines right and moving to the right spot."
       Kraai attended Binghamton University, graduating in three-and-a-half years with more than enough theater credits under his belt, and then moved to New York City, where he got a job working for a ticketing agency while building up his acting career. "In that year, I saw probably 80 shows, for free. I saw everything, Broadway, Off-Broadway, smaller theaters," he says. He also found himself living in a dangerous neighborhood in Brooklyn - so dangerous that one evening he was shot twice in the head by a BB gun. "I needed $1,200 worth of plastic surgery," he recalls.
       Needless to say, when, after a year, a friend suggested moving to LA, Kraai was ready to go. "I felt like I was turning into a New Yorker," he recalls. "I was getting really snippy. If it took me five extra minutes to get to the subway, I was like, get out of my way tourists." He was also anxious to travel more, having recently returned from a national three-month tour and prior to that having only gone to Florida for vacations as a child.
       Still, while Los Angeles started out well, with Kraai finding work in both movies and commercials, after six months he was tired of what he felt was a facade. "It was better having people being mean to you in New York than having people seem so nice and friendly and then stabbing you in the back," he adds. He also felt that the work he had found in both cities was not geared towards using the medium to lead to "a complete examination of the human condition."
       "That's not happening in New York or LA. They're too far past that," he adds.
       He returned to New Paltz "to reset," originally intending to stay for six months and then move somewhere he had never been, and then return for six months and move somewhere else, but somehow hasn't managed to leave yet. "Things were too good here," Kraai admits. In fact, with his music career taking off as well, and the village's proximity to New York City, he might be here for quite some time. "What I've realized is, I don't know if New Paltz is for me forever, but right now things are turning out really well," he says. Still, there is one definite other destination. "I know I'll have to spend the end of my life in Big Sur. I definitely need to die there. I need to be on the beach, with those mountains behind me," Kraai adds.
---
Song Struck
; The New Paltz Times, 06/03/04
       New Paltz native David Kraai applied what he called the "Bob Dylan standard" when he returned to songwriting in a serious fashion. "I was examining what makes a good song, what makes something timeless and not fluff," he explains. "I was very critical."
       The result of those efforts is
A Denim Fall
, a newly released CD containing twelve songs that Kraai hopes are the "blueprint foundation" of what songwriting is. The style is "country/folk" Kraai says, and the songs range from musings on friendship to "dustbowl ballads" and Kraai's thoughts on America. "I produced it, paid for everything, I did all the artwork and the layout," he adds.
       Kraai, who moved to Los Angeles after graduating from Binghamton University, returned to the area in 2001, which inspired him in his new pursuits. "I thought, I'm at a new point in my life, I'm back in my hometown and it's time to do what I want to do," he recalls. Though his first songwriting experiences were in college, those were mostly "rip-offs of my favorite bands," he says with a smile.
       Though he's also interested in theater and writing, Kraai feels there's a thread in all of his work. "The big thing with acting, music and books is the exploration of the human condition. That's what all art is," he notes. "I hope the things I do help people figure something out about me, but more importantly, something about themselves and their own lives."
---
© 2018