Hittin' the Note Magazine
; Issue 60, 2009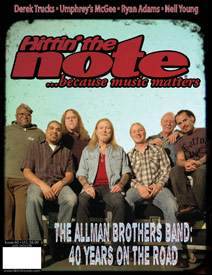 To say that David Kraai would be right at home jamming alongside a latter-day Gram Parsons would, while accurate, tell only half the story. It's true that his country-rock leanings make him a prime candidate for such a comparison, but Kraai has a few more tricks up his sleeve, a fact evidenced throughout the course of his latest release,
high & lonesome
. His second record (but the first to feature backing band The Saddle Tramps) finds the singer/songwriter delving into some really magical material that stretches well beyond the country-rock moniker.
       For such a young artist, Kraai is remarkably adept at blending his influences with his own voice. After all, beautiful balladry like "Rings Cannot Hold Them In" and "Cornflower" would be at home easily on either of Chris Robinson's solo records, yet Kraai manages to make them entirely his own. Similarly, "Tin Roof Star" recalls elements of both
Workingman's Dead
and
American Beauty
, yet the listener never gets the impression Kraai is ripping off the Grateful Dead. Instead, Kraai again sounds completely original, a testament to both his songwriting and his delivery.        
high & lonesome
is a beautifully subdued record that should definitely be garnering more attention than it has received thus far. Make no mistake about it: David Kraai is an artist the music world will take further notice of in the near future, especially with more records like this one on the way.
---
WNCW (88.7 FM)
, 12/29/08        
high & lonesome
is named #79 out of the Top 100 CDs of 2008 by
WNCW
!
---
Tune Review
, 05/05/08
       Come with me now to a universe of country, folk and acoustic rock. Sit back, relax and enjoy. This band reminds me of my favorite wine sack lying on a grassy bank at an open air concert in June. Life is good.
       "The Girl Without Country" is a good opening song and a classic story of a girl finding her way. This song has many layers of many different instruments, but it never gets too over the top. Listen to how far behind the snare is, not just every drummer can get that feel, and once the tune kicks in, there is nothing to do but tap and smile.
       Strummed acoustics create the connecting theme between all of the songs here and layered on top and through are electric leads, slide, pedal steel and even banjo. Everything is well played and contributing to the poetry of the songs with good clean tones. The bass is solid, simple and locks well with the great drummer; both are perfect for these tunes. The harmonica is in a classic style of simple playing and a great tonal signature for the band.
       "How Do" has both really nice slide playing and an instrumental break which sets off the verses well. But, this song is all about David's vocals, which are beautifully delivered. "Had Been" is a song of faded glory and the harmonica playing sets the tone from the beginning. Then, it is all about the vocals which are well performed as are the rhythm tracks. The lyrics to "Angels in Her Eyes, Devil In Her Grin" are a classic 'love lost' tale. I really dig David's vocals here. In fact, I think I could listen to David Kraai sing the phone book. Luckily his lyrics are meaningful in the classic storytelling tradition and his voice is well recorded and treated in these songs. His singing feels heartfelt and inspired and his tone is both familiar and unique.
       The production wholly supports the songs and is done from a very musical approach; nearly everything is mixed to best support the vocals and the songs. It can be hard to place so many guitar parts in a mix without ending up with confusion and noise, but these songs are well done.
       To inject my own influences, these songs remind me of summers in the mid seventies, listening to Neil Young and trading Dead tapes with my friends. It was all good back then.
---
Real Roots Cafe
, April 2008
       With David Kraai & The Saddle Tramps we welcome a nice, hip alt-country band in the modern stylings of The Flying Burrito Brothers, The Long Ryders and The Amazing Rhythm Aces. I had regarded the country-rocker of late and, after listening to this second CD,
high & lonesome
, the likes of Neal Casal and Johnny Irion were brought to mind. But, this was to be my first impression and nothing more than that. Listen, as I cast it aside and communicate what bursts out of this Upstate New York singer-songwriter.
       This man translates his visual observations into arresting, catchy compositions. Neil Young and Gram Parsons are, of course, never far gone, but, in relation to that, David Kraai & The Saddle Tramps beat out a bridge between what has been done in the past and something that is new to the ears (this can especially be heard on songs like "Had Been" and "You Can't Trust", which lift history to a higher plain). The Saddle Tramps are solid and do not force themselves on the album's core which is its true songs - tracks like "Leading Ladies & Final Bows" and "Angels In Her Eyes, Devil In Her Grin" make this fact clear. By the end I wanted another side to put on, but that was it and Neal Casal and Johnny Irion were removed from my mind. It may sound crazy, but David Kraai & The Saddle Tramps literally took me by surprise with their pure creativity and artistry. In other words: this is good, old, new fashioned music that I dug very much.
---
Rootstime E-magazine
, January 2008
       The seventies: country rock, The Flying Burrito Brothers, Poco, Neil Young, New Riders of the Purple Sage and especially the influential Gram Parsons. If you like the things that have just been mentioned, there is a very good chance that you will fall for David Kraai and his Saddle Tramps because, as no other, this man knows how to call on the atmosphere of the heyday of country rock. He had already proved that on
A Denim Fall
in 2004 with songs such as "Can You Hear My Guitar?", "Cracks In A Straw House" and "Chuck's Song" attracting our attention. Now, three years later, David has evolved in a good direction: the group sound is fuller and more diverse, and the songs even stronger. Take "Had Been" with its Neil Young harmonica consonances or the duet with guest vocalist Alexandra Jornov on "You Can't Trust", these are strong songs. Up to this point, nostalgia has been throughout the CD and the cover even lists an A and B side. Hopefully you do not stop at the halfway point, because the best songs are still to come and balance the album. In "Leading Ladies & Final Bows" the sound mix is surrealistic, with extra reverb and slightly distorted singing and thus Kraai breaks the seventies sound. But, later, in "Cornflower" everything is back to the old ways and we get David as we are used to him. It also seems as if he has saved the best for last in two very strong songs: "Tin Roof Star" and, my favorite song on the album, "Angels In Her Eyes, Devil In Her Grin", where the pedal steel and Dylan-esque harmonica set an ideal atmosphere. David Kraai's debut was strong and this album does more than confirm that; number three will certainly be the breakthrough this New Yorker deserves.
---
Rootsville E-magazine
, December 2007
       David Kraai's debut album
A Denim Fall
already involved him at tributes to his predecessors, thus it is not surprising that David chose for the successor,
high & lonesome
, a sixties/seventies atmosphere. The sound of Gram Parsons, The Flying Burrito Brothers, The Byrds, Bob Dylan and Neil Young are never far way from the neighborhood and even the wardrobe and haircut of the singer-songwriter from New York is the same, despite all of the years. Now, where the stars and time chose to stand still is "The Girl Without Country" with its harmonica, mandolin and banjo. The album has begun and we are getting used to the somewhat rarified, trembling voice of our good friend and already, within the six minutes of this opening track, it is sufficient to convince us... this is going in a good direction. The pedal steel of Marty Hodulick calls us in with a cordial welcome on "How Do" and we hear the truth later when Kraai sings, "You can't trust a man with a woman, you can't trust a woman with a man". There are certainly no violent motives here, just a bank of a song (and you can stipulate the meanings yourself). An excellent album that, just like the eye-catching artwork by Kraai, will oblige lovers of traditional, progressive, acoustic, electric, laid-back and upbeat country/rock.
---
Alt Country Netherlands
, November 2007
       (4 out of 5 stars) David Kraai looks like a country-rocker from the seventies: jeans, denim shirt and long hair. In that decade lies also his roots: Gram Parsons, Bob Dylan and Neil Young are all named on his webpage. On
high & lonesome
, David Kraai & The Saddle Tramps pour these influences into a form that is at no moment dated. The Upstate New York based Kraai will especially be compared to Johnny Irion, in that they both have a not overpowering rather high voice. Song titles such as "Angels In Her Eyes, Devil In Her Grin" show Kraai's respect for The Flying Burrito Brothers, whose "Christine's Tune" (She's a devil in disguise, You can see it in her eyes) is clearly an inspiration here; Kraai was no doubt a welcome guest at the tribute concerts he's played for Gram Parsons.
high & lonesome
begins strongly with "The Girl Without Country", which draws nicely for a playing time of more than 6:40 minutes. The electric guitar work on "How Do" brings to mind The Amazing Rhythm Aces. And, in such a way as old-fashioned country rock is the starting point, David Kraai & The Saddle Tramps allow enough experimenting in a contemporary manner to create to a good tension here. A special mention should also be made to the beautiful country singing of Alexandra Jornov on "You Can't Trust".
---
Roll Magazine
, November 2007        
high & lonesome
settles into a nice alt-country groove that assumes an easy familiarity. The Saddle Tramps have a fine acoustic/electric chemistry (like The Band with steel guitars and banjos instead of keyboards) that provides tasty support to David Kraai's Cali-country song stylings and almost Kentucky drawl. Special guests Alexandra Jornov (vocals) and Fooch Fischetti (fiddle) enhance this crisply-mixed CD.
---
Daily Freeman
, 11/23/07
       David Kraai and his band have a sparkling new CD out that is an uncanny cross between traditional and progressive country. The release starts out with the lovely "The Girl Without A Country". Kraai's airy voice floats above the easy-flowing track as Marty Hodulick's slippery steel sets the mood. "How Do" is a wide open summery cowboy tune. Alexandra Jornov takes a turn on "You Can't Trust," and fine Woodstock fiddler Fooch Fischetti chimes in as well. "Givingthanks Song" has a lot of space while "Leading Ladies & Final Bows" has a haunting surreal sound drenched in reverb as Kraai says, "Nobody like a liar/At least when looking to cast stones". Kraai and his strong tunes shine through. David Kraai is one to check out, as he seems to be onto something here.
---
Country Home - Germany's Online Magazine for Country Music
, October 2007
       Now, the expression "high & lonesome" automatically brings with it a Bluegrass connection; David Kraai has borrowed only the banjo and mandolin here. Otherwise, he more or less adheres to the typical Woodstock sound by means of harmonica and relaxed singing. But, even to the New Country and pop music sound, the boy adds pep. For example, he is simply mixing it all and, what one hears, pleases surprisingly. Immediately, one will try to untangle the ball and say to themselves: What style of music is this? Just enjoy the mixed salad instead and know that David Kraai has no borders.
---
© 2017